This page is meant to provide further information on the Forensic Linguistics Short Course 2022. We will update this page as more information becomes available. Scroll to the bottom of the page to ask questions not answered yet.
last update: 27 August 2022, 12:34pm (GMT+2)
recently updated sections: Keep in touch!
Add your contact information if you want to keep in touch with other participants. Information will only be shared with other participants of the 4th FLsc who add their information.
Due to the COVID-19 pandemic, restrictions for entry into Germany from many countries apply. Persons entering from an area of variant of concern are required to complete a digital entry registration, provide a negative test result and quarantine.
Find official information here. Please check regularly for changes before your arrival.
Currently, there are no longer any restrictions at the venue, Heinrich-Heine-Universität. Thus, wearing masks is no longer mandatory. Find the official university guidelines here.
We will provide medical masks as we follow a better safe than sorry policy. We also recommend bringing masks of your personal choice.
On public transport, medical masks are mandatory. Not wearing masks on public transport will lead to a fine of at least €100.
Düsseldorf is the state capital of North Rhine-Westphalia, Germany's most densely populated state. With roughly 620,000 inhabitants, it is North Rhine-Westphalia's second-largest city, with only its nearby rival-city Cologne ('Köln') being larger.
Düsseldorf is home to many attractions, from a historical old town, to one of Europe's poshest shopping streets and arty architecture. The city is also home to more than 10,000 inhabitants of Japanese origin, making it one of the biggest Japanese populations outside of Japan. Near Düsseldorf main station, the Japanese influence can be experienced first-hand with signs in German and Japanese, Japanese supermarkets and restaurants, and other Japanese stores. Düsseldorf also has a Buddhist temple.
Find more information on Düsseldorf and tourism in Düsseldorf here.
Düsseldorf can be comfortably reached by train and plane.
by Train:
Düsseldorf main station is called "Düsseldorf Hauptbahnhof". From here, trains to other major German cities depart as well as trains going to the Netherlands, Luxembourg, Belgium, Austria, Switzerland, and France.
From Düsseldorf main station, the airports "Düsseldorf" (DUS) and "Köln/Bonn" (CGN) can be reached by train.
by Plane:
Coming to Düsseldorf by plane is rather straightforward, as Düsseldorf has its own airport (DUS). In case your departure location does not provide direct flights to DUS, you may consider going to "Köln/Bonn" airport (CGN) or to "Frankfurt" airport (FRA) instead.
From CGN, take any of the regional trains (abbreviated RE or S) to Düsseldorf main station. Using the "9€ Ticket" (see Public Transport > Tickets), going from CGN to Düsseldorf is especially inexpensive.
From FRA, most people take one of the high-speed trains (abbreviated IC or ICE) to get to Düsseldorf. However, these trains require booking ahead and are not part of the "9€ Ticket". Of course, taking regional trains from FRA to Düsseldorf is possible, but takes its time (3½ hours and more).
Payment of the participation fee for the 4th Forensic Linguistics Short Course must be done in Euro via bank transfer to the following account:
Name:             Diversitaet in der Linguistik
IBAN:              DE73 8306 5408 0005 2487 60
BIC:                 GENO DEF1 SLR
Bank:               VR-Bank Altenburger Land / Deutsche Skatbank
Reference:      4th FLsc FirstName LastName
Please also note the terms and conditions.
Download the information on fee payment as pdf-file here.
If Confirmation of Attendance
a. is withdrawn before or on 07 August 2022 and if the fee has been paid already, the full fee will be refunded.
b. is withdrawn later than 07 August 2022 and if the fee has been paid already, no refund is given; if the fee has not been paid, a payment is mandatory.1
The participation fee for the FLsc 2022 is EUR 280 for all participants.
Deadline for fee payment is 07 August 2022.
a. In case of payment by instalments, please see the personal correspondence for guidelines.
In case of bank transfer fees which might occur for participants outside of the European Union / Euro Zone, you are free to use the SHARE-option, i.e. bank transfer fees are paid 50:50 by you and the FLsc.
1 Exceptions can be made in compelling cases, e.g. in cases of attested illness or occupational reasons.
Download the information on fee payment as pdf-file here.
For those participants who cannot or do not wish to pay the participation fee by a single transfer, we offer payment by two or three instalments.
To apply for payment by instalments, fill in this form and return it via email. All terms and conditions apply.
Download the information on fee payment as pdf-file here.
During the official hours of the FLsc, snacks and beverages will be provided. Among other things, the following snacks and beverages can be expected:
Snacks:
• fruit (apples, bananas, etc.)
• biscuits/cookies (including vegan options)
• sweet pastries
Beverages:
• water (carbonated and non-carbonated)
• apple spritzer (i.e. apple juice with carbonated water)
• coffee (including vegan milk options)
• tea
All FLsc participants will have lunch at the main 'Mensa' (canteen) of the Heinrich-Heine-Universität. We will go to the Mensa as a group, so nobody gets lost on their way. If you get lost anyway, here is where to find the Mensa: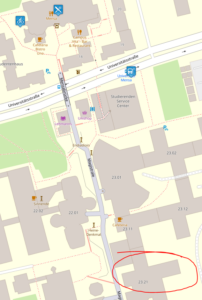 The Mensa is found in the most northern part of the above map as is indicated by the crossed knife and fork. The main venue is indicated by the red circle.
Participants can choose any food option offered by the Mensa, including salads, deserts, and beverages. Options change daily; find an overview here. We will provide a list of allergens and additives during the FLsc.
Participants do not have to pay at the registers. Instead, please show your name badge, so cashiers will recognise you as part of the FLsc.
We will have a summer school dinner on Thursday evening, starting at 7:30pm; attendance is optional. You can sign up for the dinner on the first day of the summer school. Please note that the dinner is not covered by the participation fee.
The venue of the dinner will be the restaurant called Schwan 'swan'. It is located in the old town of Düsseldorf and can comfortably be reached by public transportation.
The restaurant is located here. You can get there via tram lines U70, U71, U72, U73, U74, U75, U76, U77, U78, U79, and U83; get off at the stop called "D-Heinrich-Heine-Allee U", then walk 5 minutes to the restaurant.
With the FLsc being in August, you are extremely lucky! The German Federal Government decided to issue so-called "9€ Tickets" for the months of June, July, and August 2022. Each 9€ Ticket is valid for a whole month (i.e. either June, July, or August) and can be used on all public transport across Germany. The only exception are high-speed trains (IC/ICE).
Thus, our suggestion is straightforward: Purchase a 9€ Ticket valid for the month of August for your stay in Düsseldorf.
You can purchase a ticket at any ticket machine in Germany or comfortably using public transport apps. One of such apps we introduce in the following section.
There are lots of apps available for Android and Apple smartphones to navigate German public transport and to purchase relevant tickets.
However, we recommend using the official app of the DB (Deutsche Bahn, 'German National Railway'), which is available in English and some other languages. The app does not only know stops operated by DB, but also any other public transport stops you will encounter in Germany, for example the above mentioned tram and bus stops run by the Düsseldorf transportation company "Rheinbahn".
Please register before you first need to use the app, as some personal info as well as payment info is required.
On public transport, medical masks are mandatory. Not wearing masks on public transport will lead to a fine of at least €100.
On the day of arrival – 23 August 2022 – there will be an open social gathering that you can attend. It is a nice opportunity to get to know some of the other participants, as well as the lecturers and coordinators of the FLsc.
The social gathering will take place at "Hausbrauerei Zum Schlüssel", an authentic and traditional brewery and restaurant in the old town of Düsseldorf. The gathering will start at 5pm; feel free to join later if you cannot make it in time. Please note that you have to pay for your own beverages/food; anyone joining is expected to order at least one beverage (no matter whether it is water, cola, beer, or really anything else). Ordering food is purely optional (however, traditional German food as offered in such places is quite tasty!).
The brewery is located here. You can get there via tram lines U70, U71, U72, U73, U74, U75, U76, U77, U78, U79, and U83; get off at the stop called "D-Heinrich-Heine-Allee U", then walk 3 minutes to the brewery.
Alternatively, you can meet up with Dominic in front of Düsseldorf Hauptbahnhof (main station). He will be waiting close to the main entrance of the station, holding an FLsc sign. Together you will take the tram to the aforementioned stop and go to the brewery. Please note that you need a ticket for the tram – see the 'Public Transport' section for more info on tickets. Dominic will be in front of the main station from approx. 4:20 to 4:45pm.
Please let us know if you are (not) interested in joining the social gathering here (no strings attached – no negative consequences if you do not show up).
Germans love their rules. Therefore, please try to avoid jaywalking, i.e. crossing or walking in the street or road unlawfully or without regard for approaching traffic.
Pedestrian crossings in Germany are called "Zebrastreifen", which literally means "stripes of a zebra" (see image).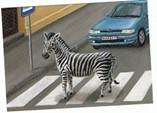 Please use either Zebrastreifen or traffic lights when crossing bigger roads. When crossing small roads, use them if they exist. In case they do not, please pay attention with regard to approaching traffic.
Note: Ignoring traffic lights may lead to a penalty fee of 5€. Police will actually stop you and talk to you about your bad behaviour in case they notice you jaywalking.
The 4th Forensic Linguistics Short Course will take place at Heinrich-Heine-Universität Düsseldorf, Germany.
The official university address is:
Heinrich-Heine-Universität Düsseldorf
Universitätsstraße 1
40225 Düsseldorf
The FLsc will take place in building 23.21, in rooms U1.75 and U1.76. See the blue arrow on the below map; click to enlarge.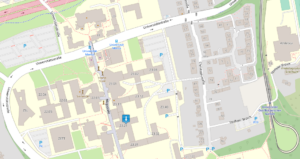 Find the complete HHU campus map as pdf-file here. Additionally, this link to Google maps will take you to the correct building.
The HHU campus is serviced by multiple tram and bus lines. Get off at any of the below listed stops for a comfortable trip to our venue.
Tram:
Tram stop "Uni Ost/Botanischer Garten"
Tram lines: U73 & U79
Walking distance to venue: 5-10 minutes
Tram stop "Universität Nord/Christophstraße"
Tram lines: U71, U73 & U79
Walking distance to venue: 15-20 minutes
Bus:
Bus stop "Universität Mitte"
Bus lines: 731, 735, 827, 835, 836, M3, SB53 & SB57
Walking distance to venue: 5 minutes
Feel free to ask any questions concerning the FLsc via this form. Of course, you can also email us the old-fashioned way.